At Geotechnical & Environmental Consultants, Inc., we prioritize connecting with the communities in which we operate, not only through our projects, but also through charitable efforts, community service, activism, mentoring, and volunteerism.
GEC was named "2018 Business of the Year" by th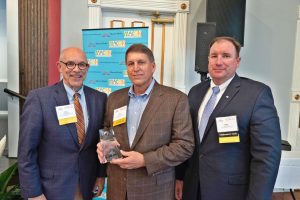 e Greater Macon Chamber of Commerce and the Macon Economic Development Commission at the 158th Annual Business and Industry Awards Luncheon. Nominees were ranked on criteria that included their economic impact in the community, the overall workplace environment and proven corporate citizenship, which includes charitable giving and employee volunteers working with charitable organizations.
Se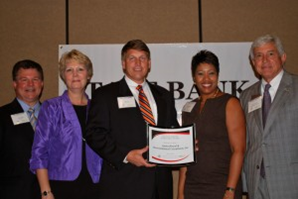 ven years earlier, GEC was named "2011 Small Business of the Year. Presenter Dan Forrester with State Bank and Trust said, "Our winner today is a mainstay in our community with the many charitable organizations that they sponsor. The list on their entry package took up a whole page…single spaced. This company promotes a family environment for all of their employees as it helps maintain balance in their lives, which promotes attendance and increases productivity." In 2005, GEC also received the Small Existing Business/Industry Award from the Macon Chamber of Commerce.
Geotechnical & Environmental Consultants, Inc. has a passion for improving our Central Georgia Community, which can be seen through the following endeavors:
Ou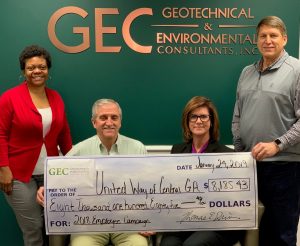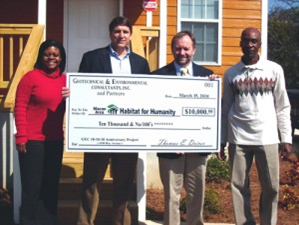 r 2018 United Way Campaign raised a grand total of $8,185.43 in 2018, a 21% increase from our 2017 Campaign!
On GEC's 10th anniversary, a 10-10-10 program was instituted. Employees were asked to donate 10 hours of service to a Habitat for Humanity home, and the company donated $10,000 to the homes in Lynmore Estates.
Geotechnical & Environmental Consultants, Inc. is proud of the level of community involvement that many of our professional and technical staff provide to charitable, professional, and government organizations.
Some of the diverse organizations in which they contribute their time, talent and financial resources include: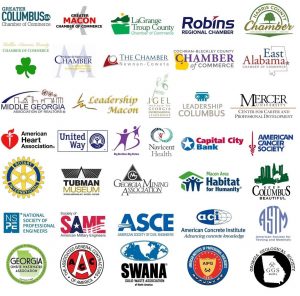 Contact GEC for more information about a company that is involved in the community.